Looking to see if Hostinger Minecraft server hosting stacks up? Well, server hosting aficionados all over the world agree, Hostinger is stellar, and it's so damn affordable.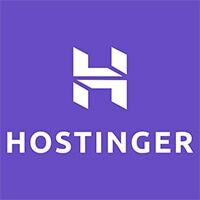 Hostinger Minecraft Review
With servers in more than 170 countries across the globe and 29 million customers, Hostinger is taking over, and is a mainstay of not only bloggers (due to affordable prices) but also Minecraft players and server providers due to its great packages on offer.
How Much Does Minecraft Server Hosting Cost?
Hostinger while not the cheapest Minecraft hosting, for what it gives you with their amazing features, it makes their starting costs extremely favorable.
Like the Alex Plan...
The Alex "Intro" Plan
The Alex plan is perfect if you are just starting out, have a few friends that you want to build a nice community with and are ready to take your own server online for the first time.
With the 2GB of RAM, you can accommodate up to 10 players and not have any lag issues, a great starting point.
Today's Best Price
$6.95/mth

If you are completely new to hosting your own Minecraft server then let me explain how the plans break down so you can make the right choice.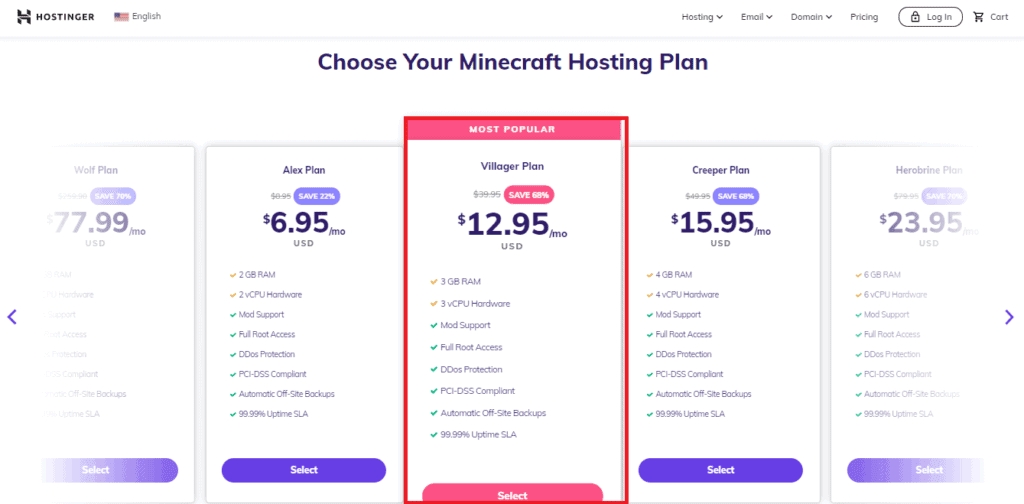 The plans that Hostinger offer might be a bit confusing for a new Minecraft server owner. If you want to break through the confusion, first think about:
How many players will play on your server?
Once you have the answer in mind, then use this little RAM formula to help yourself:
Minecraft RAM Formula
2 GB – 10 Players
3 GB – 15 Players
4 GB – 25 Players
6 GB – 40 Players
8 GB – More than 90 Players
If you select your plan based on the above metric, any Hostinger Minecraft server lagging issues will never annoy your server gameplay.
From our experience here at BizOfGames, if you are new start with a $6.95/month Alex plan. If you're a pro and there are more players, you can start with a $12.95/month Villager plan.
But, there are plenty of plans to choose from that allow you to start small and within your budget, and most importantly, allow you to scale your servers to more powerful and capable options as and when you need them.
This is due to the nature of their server build, using VPS virtualization technology.
After you make an account, you can have your server up and running in literally seconds (We run through the step-by-step process below), and there's a very capable support team available over the phone or via live chat should you have any questions or encounter any problems.
The interface and dashboard are also incredibly clean and easy to learn, meaning that even if you have no technical skills, you can set up a server with ease.
So, let's go and set one up step by step...
Hostinger Minecraft Server Setup Compatibility
Choose the correct Minecraft server that perfectly fits well within your needs. I'll use the Villager plan for this.

As you can see, there are multiple discount offers. You may get something different. So, pay attention before checking out.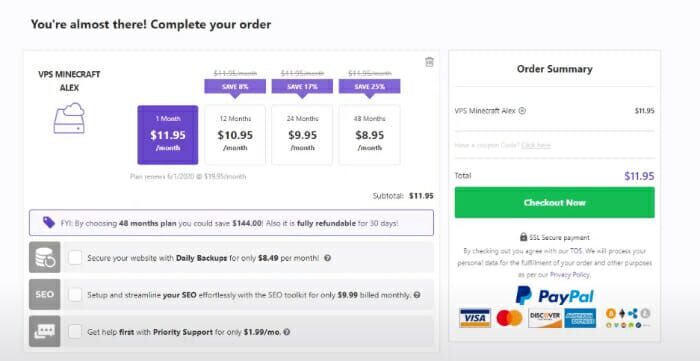 Once you complete the order, you will get a thank you message. From there, you need to set up a Minecraft server. Hit the "Set Up Your Order" button.
Now give your server a great name. In location, you need to choose the one that is near to you as well as your players.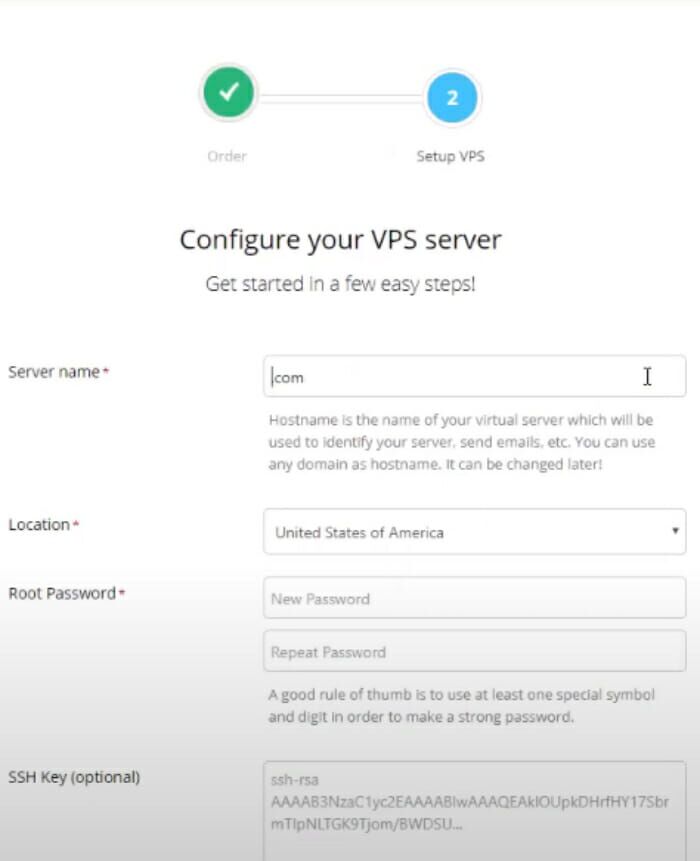 And yes, don't forget to put a strong password. Now move forward by clicking on the "Setup" button.
After that, continue to the control panel.
Here's the real deal. Don't worry; nothing is complicated here except the dashboard. I am showing you the easiest way to bypass all of that annoying stuff.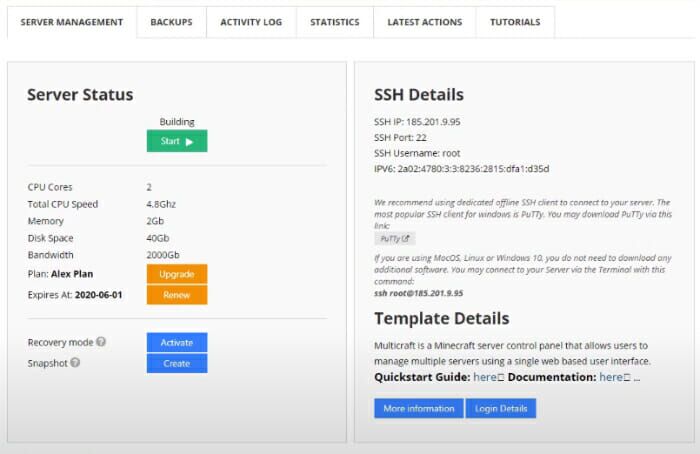 Note: Make sure you have a domain name. If you don't have one, get one either from Hostinger or GoDaddy. Just remember! It would be easier to take the Hostinger domain.
From here, I'm assuming that you have a domain name. So, go ahead and click on start building.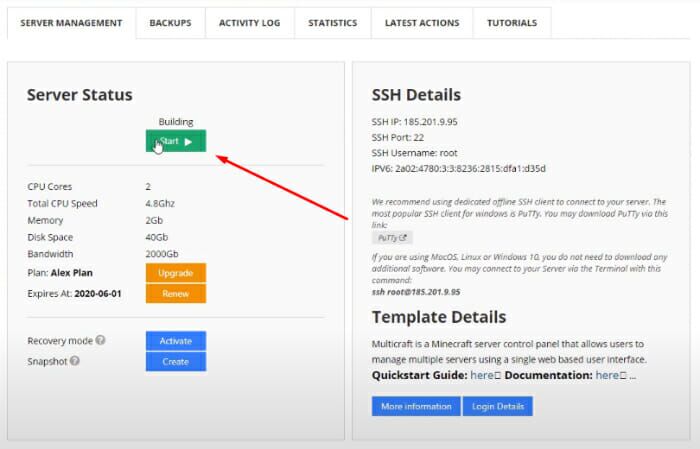 A little window like this will pop up.

On a scale of 1-10, how sure are you about starting your own Minecraft server? Just kidding!
Just say yes and wait for proper execution.
If your server status is running and green, you need to copy your SSH IP from there and paste it on Godaddy.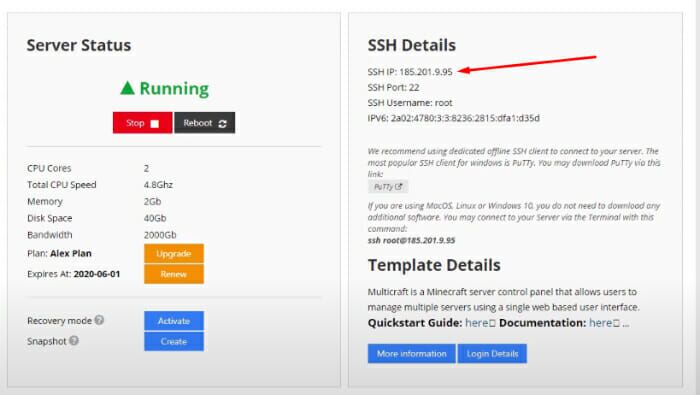 Have you copied it? Great!
Now head over to the Hostinger's DNS settings and paste your IP in A records like this:

It may take some time to get into the records. So, don't worry if it doesn't work immediately, it will work eventually.
In my Hostinger Minecraft server review, I've talked about multicraft features in pros of it. Now is the time to leverage it.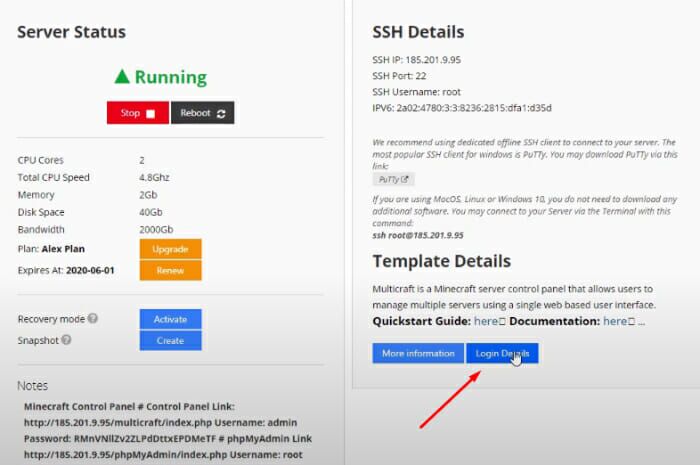 Once you hit the login details button, another small window will pop up.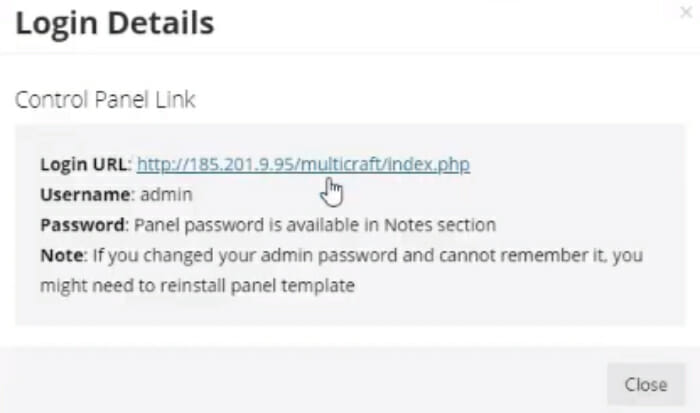 Click on the URL, and you will be redirected to the main login section where you can create a Minecraft server without command.
Just right there, can you see the multicraft? Isn't it amazing?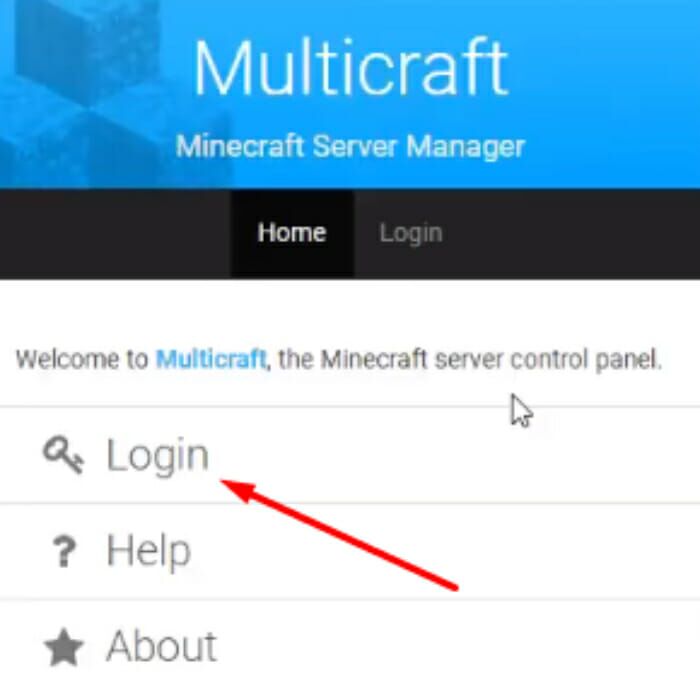 Select Login and enter your username and password. Wait a minute! Are you wondering about your username and password?
Well, your username is admin, and the password is in your notepad.
Just check your notepad section!
Copy your password from there and paste it to the multicraft login section.
Finally, we're inside the multicraft panel of the Hostinger Minecraft Server Hosting region. It's time to create a Minecraft hosting server. (This is our location, you choose yours)

Give your server a name, enter player limit in slots, and paste the IP you used to connect your domain name.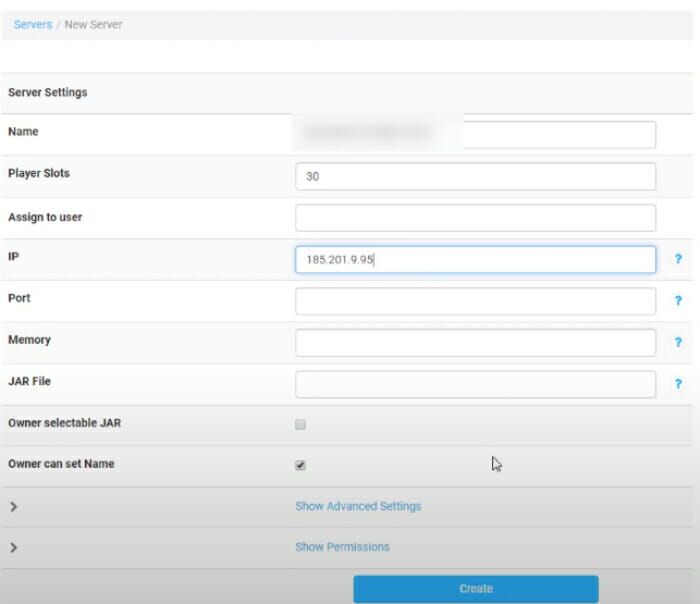 That's it, now click on the blue "create" button.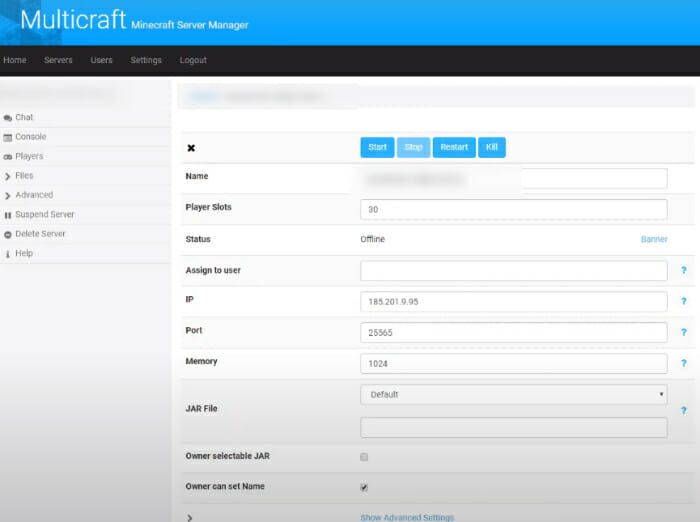 And voila! Everything is auto-filled for you. But still, there is one more thing that requires your attention.
Select the Jar section and choose which version do you want to run. If you don't have any idea, proceed with the default one and click on start.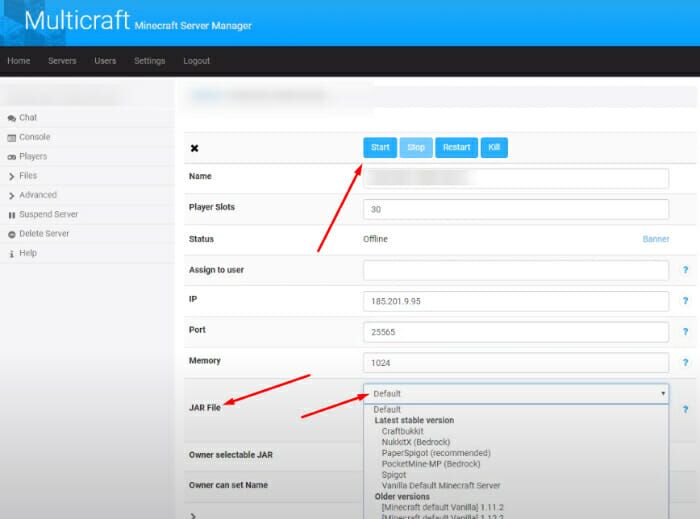 After clicking on the start, you need to visit the console section from the left side menu. If it gets done, you will see the exact same status.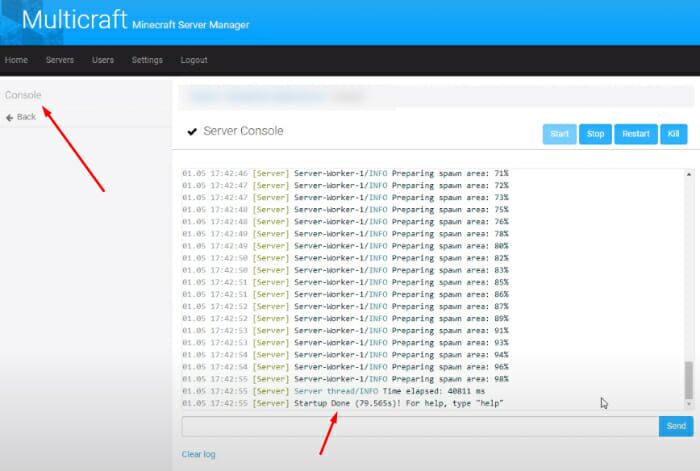 Launch Minecraft and put your domain name or IP address. And then, click on "done."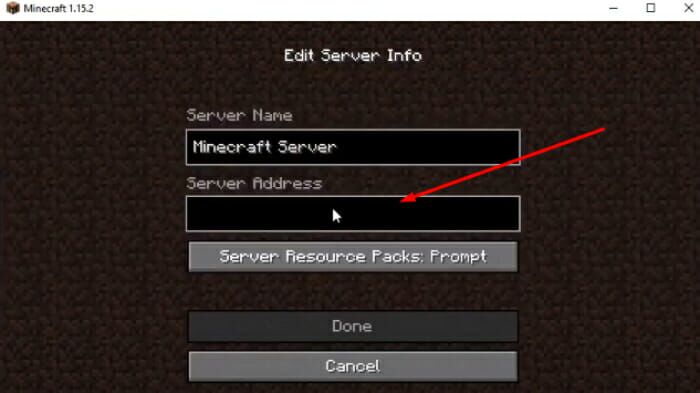 Join the server once it gets ready and you're in the game. Go ahead and nail it.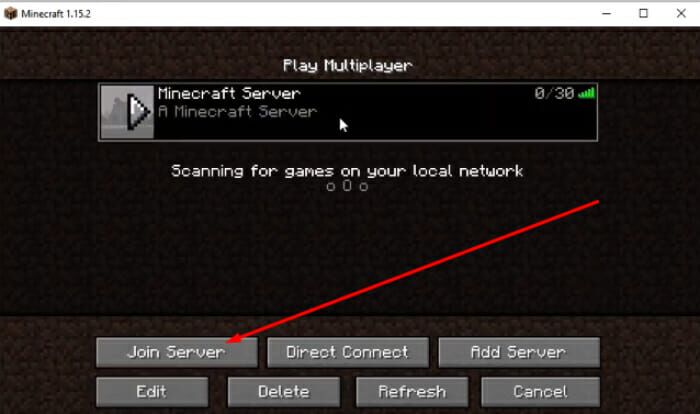 Let's Talk About Hostinger Minecraft Server Locations
As of now, Hostinger Minecraft servers are located in Singapore, Lithuania, Netherlands, US, and UK.
If you want to prevent higher latency and lag issues, you should aim for the nearest location.
Do you know Hostinger Minecraft server hosting is good for travelers?
What I like the most about the Hostinger Minecraft server is - you can change your location whenever you want. If you're on a trip, you can select the nearest location.

If you enjoyed this Hostinger Minecraft review then drop us a comment and let us know.
FAQ
Is Hostinger Good for Minecraft Server?
I've compared the 5 cheap Minecraft hosting servers - the fact is - nothing is as easy and affordable as Hostinger.
If you ask me to rate it out of 10, I would give it 9. The other 1 rating goes to that after logging in live chat annoying barrier.
However, that isn't a big reason to hate the Hostinger Minecraft server.
Is Hostinger Safe?
Yes, Hostinger is super safe and has an amazing Trustscore of 4.4 on Trustpilot, which is amazing considering that is from 2304 reviews.
So, yes, Hostinger is safe and is a definite option for your Minecraft hosting.
How Is Hostinger So Cheap?
One of the main reasons that Hostinger is so cheap is that they use their own in-house control panel for their client's admin operations, they call it the H-Panel. Whereas other hosting companies use a 3rd Party control panel called C-Panel, hence they cut costs this way, not having to pay ever-escalating service fees to CPanel.
Is Hostinger Reliable?
Yes, it is very much reliable, in terms of excellent speed for all of your hosting needs. They have been investing heavily into their infrastructure and seem to have overcome their small issues with uptime that hampered them over the previous year.
Should You Use A Free Minecraft Server?
While you can use a free server to host your Minecraft game playing it is Not recommended. Minecraft is a very testing game and requires some really good quality server hosting to enable smooth play.
If you are really looking for a-close-to free Minecraft server, I would recommend looking at a Hostinger Minecraft Server, as these are inexpensive and a good quality VPS hosting plan packed full of the required resources you need.
What's Included In This Hostinger Minecraft Server Review?
Before getting into the actual meat and potatoes, I would like to let you know what this Hostinger Minecraft server review is about.
Pros and Cons of Hostinger Minecraft Server hosting,
How much a Hostinger Minecraft server costs,
How to set up your Minecraft Server and compatibility finding,
Is Hostinger a good Minecraft Server?
Pros of Hostinger Minecraft Server
Instant Minecraft server setup
Web or FTP file access
Free MySQL
DDoS protection
Multicraft panel to setup Minecraft server easily
Mobile app
99.99% uptime SLA
Full-time Minecraft specific support team
PCI-DSS compliant
Dual-CPU hardware technology
30 days Minecraft server hosting moneyback guarantee
Partnership Program to make money as an affiliate on your server
Cons of Hostinger Minecraft Server
A variety of plans often confuse users
No phone support
Must log in to have a live chat with customer service